Date 2016-08-15
Location: 19000 SE Kokomo Lane, Jupiter, Florida
(click to view on Zombie Attack Map)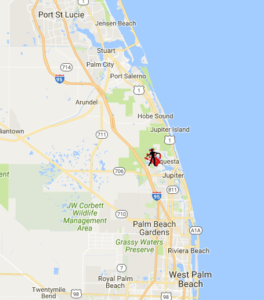 Reportedly mild mannered and well liked college student, Austin Harrouff, became agitated while out for dinner with friends at  Duffy's Sports Grill and took off on foot. He then wandered into an upscale neighborhood 15 to 30 minutes away and randomly attacked a couple who were relaxing in their garage. 19 year old Harouff allegedly stabbed and bludgeoned the couple with weapons of opportunity from the couple's own garage. The victims were identified as 59-year-old John Joseph Stevens III and 53-year-old Michelle Karen Mishcon.
Hero neighbor, Jeff Fisher, tried to intervene as Harrouff attacked the male victim in the driveway and received several stab wounds for his efforts. Despite serious injuries to his back and head, Fisher was able to escape and call 911 at about 9:20 pm (call recording below).  Fisher was lifeflighted to the hospital where he underwent surgery and is expected to recover.
When police arrived the suspect was found "growling, grunting and making animal noises" chewing the face off of the male victim. Deputies used stun guns to no avail as the attacker apparently felt no pain. It took several deputies and a K9 to pull the "abnormally strong" Harrouff off of the victim.
Based on the apparent randomness of the attack and the bizarre behavior of the attacker police suspect that he may have been under the influence of drugs, possibly Bath Salts or Flakka. The suspect is originally from Riviera beach and was studying "Pre-exercise science" at the University. Perhaps he was experimenting with some supplements and got some bad stuff. It can take weeks for lab results.
The suspect is currently being held under guard at St. Mary's Medical Center where he is in stable condition though he was previously reported in grave condition. Police say that he suffered intestinal damage possibly due to taking some type of drug. He is scheduled for surgery to his hand.
Recent reports have Harrouff telling police "You're not gonna find any drugs in my blood.". A neighbor reported Harrouff's behavior as odd in the weeks preceding the attack including discharging a handgun (in Harrouff's back yard) and shooting and killing a bird in the neighbors yard. The day of the double murder the suspect was seen fighting with his father before driving off.